How this website is different
This website is totally unique to New Zealand. At the time of writing there is no other website in NZ (or even Australia) that makes is possible to generate a complete set of detailed deck drawings.
There is however a few websites that can create deck drawings in the United States. Though its true can create some amazing photorealistic rendered images (I don't want to knock this) there are drawbacks:
You cannot export a drawing into a format that can be imported into a Computer Aided Design (CAD) program. This is quite a serious drawback as if a drawing needs to modified slightly (i.e. some of text needs changing) you would be completely stuck.
Some of the websites are not able to create a set of detailed drawings for a permit.
Its debatable whether the designs are providing enough information for local authorities if they are able to produce a drawing at all.
None of these were able to create a site plan, nor add the client's details into the title block.
Some of the programs had questionable designs i.e. a flight of exterior stairs 3.9m high without any midway supports for the stringers. What's worse it would appear the stringers have been seriously compromised by cutting into the stringers for the steps. This reduces the stringer width to about 150mm for such of long length of timber. These steps would be at the very least very wobbly, but worse potentially very unsafe.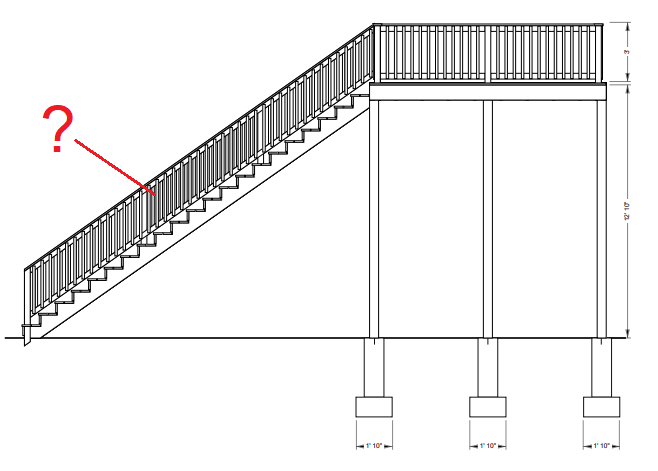 What ROBO Deck Designer can offer
With the ROBO Deck Designer the whole approach is completely different. The main focus here is providing a set of highly detailed deck drawings for consent approval. Below are some of the aspects of the deck designer:
Drawings to meet all aspects of the relevant New Zealand Building codes - This is the most important aspect of ROBO Deck Designer. Also the drawings reference these codes.
There are no debatable designs. All the designs have been thoroughly checked that they comply with the NZ building codes.
There are no missing details
You can export the drawings from the website so they can be imported into CAD software. This is done by creating an Autocad script file. The benefit of this is that the drawings can be modified.
Site plans are able to be included on the drawings
Also your name and the address details are in the title block
Disclaimer: Whilst this website contains a lot of information on the design of decks which has been produced with the highest level of professional care, ROBO Deck Designer, ROBO Design Solutions or Paul Roberts (the developer of this website) does not accept any responsibility for the accuracy of the information on this website. This website is intended as a guide only, please refer to the New Zealand building code for the appropriate regulations.